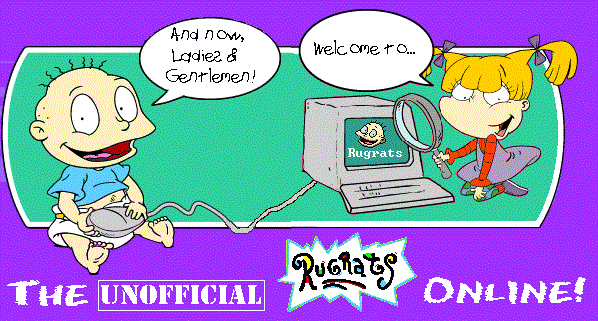 Established: October 5, 1996
Revised: July 28, 2012

Welcome to the UNOFFICIAL Rugrats Online, one of the original Rugrats websites on the internet.
It has been many years since Rugrats has left the air -- of course, I practically all but left the Rugrats realm since then, all but passing up its spinoffs, including "All Grown Up", "Preschool Daze" and the newest series, "Tales From The Crib" (unrelated to the earlier videotape), as I had other things going on in my life, including taking up drawing and writing on the side. However, there are still many people who have taken an interest in the original series, which is 20 years old this year (as I write this) -- the little kids that first watched the series back in 1991, or even when it started back up in 1996, are practically college graduates today.
While this new version is leaner than the original rugratonline.com (dated and easily-accessible material has been removed, as are the fan fictions, as some are embarrassed to read them now), it still preserves the essence of the original series and the films.
I hope you enjoy this website, and for our older viewers with kids of their own, I hope this website serves as an opportunity on what Rugrats, and Nicktoons, was "back in the day".

| | |
| --- | --- |
| Website Index | |
Some of the links presented are out of date.
| | | | |
| --- | --- | --- | --- |
| | | | |
| | | | |
| | | | |
| | | | |
| | | | |
| | | | |
| | | | |
| | | | |


Providing a link to my website? Nothing could be finer than a banner to go along with it. For banners (similar to this one), click here.



Important Note:
When writing to me or making comments in the guestbook, keep in mind that I DO NOT work for Nickelodeon, Klasky-Csupo, Viacom, YTV or any animation or entertainment profession. I'm just a casual fan, just like you. If you have any questions or comments about "Rugrats" or any trivia questions or ideas you have for the site, let me know. If you have any ideas for the show itself, or comments or questions directed towards the producers, don't ask, as I'm not able to answer them.



Disclaimer:

Rugrats are copyrighted by Nickelodeon (a Viacom company), and presented here with NO AUTHORIZATION of any kind, as they are being used to present my point in reviewing America's favorite babies, Rugrats. Rugrats characters, series, and series name are owned by Nickelodeon (a Viacom company), including all artwork and graphics depicting Rugrats characters. All logos, program scripts, and other program elements are, once again, copyrighted by Nickelodeon. I am NOT an employee of Nick, MTV Networks, any Viacom subsidiary, or any broadcaster that is currently showing or has shown Rugrats in the past, nor do I work for Klasky-Csupo or any animation or entertainment profession, and this site is NOT ENDORSED by these parties. This web site was done COMPLETELY ON MY OWN POWER using my own time and expenses; I've RECEIVED NO COMPENSATION of any kind for this site. "The UNOFFICIAL Rugrats Online", my home page, my links pages, and all other pages on this site is copyright ©1996-2012 by Steve Mindykowski. Graphics and quoted articles are copyrighted by Viacom and other copyright holders. All rights reserved.