| | | |
| --- | --- | --- |
| The | | Activity Page |

In this section, I'll be providing activities and goodies for your enjoyment. All you need is a printer, some crayons, and a yearning to have fun.

Coloring Pages
The following are some coloring pages that I gathered up from various sources over the years.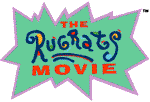 The following pictures were previously part of Nick.com's Rugrats Movie website.
(©1998 Viacom.)
Angelica as Shirleylock Holmes
Chuckie as Okey-Dokie Jones' sidekick
The Rugrats in the Reptar Wagon
1992 Rugrats Style Guide
The following are based on pictures that were used in the 1992 Rugrats Style Guide, which I won on eBay awhile back.
(©1992 Viacom.)

Miscellaneous
The following coloring pages I have gotten a few years ago from sites I have forgotten.
The Rugrats look at a butterfly
---
Special Activities
The following are special activities that also requires scissors, your choice of glue or tape -- and the right occasion.
Masks From "Rugrats -- A Live Adventure" (1998)

The following items are masks that were made available on Nick.Com, as part of a promotion for the Rugrats live show. With these masks, now you can be your favorite Rugrats character, as long as the characters are Tommy, Chuckie or Angelica.

(©1998 Viacom.)
(Above: Logo for the 1997 edition of the
Nonstop Nicktoon Weekend,
from Nick.com; ©1997 Viacom.)

Thanksgiving 1997

The following items were originally on Nick.com as part of the promotion involving the Nonstop Nicktoon Weekend and the release of A Rugrats Thanksgiving video. These can be used for Thanksgiving or any special occasion.
(©1997 Viacom.)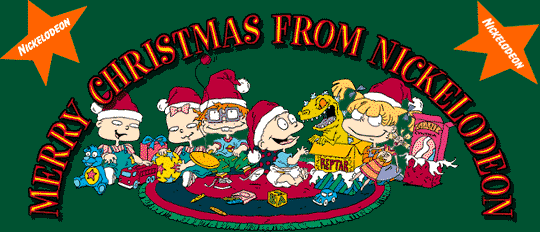 (Above: Chrismassy masthead for Nick UK's website in 1998; ©1998 Viacom.)
Christmas Ornaments 1998
From Nick UK, the following are supposed to be Christmas ornaments or something, though they're a little big for the tree. Anyway, you could think of something festive for them.
(©1998 Viacom.)

Tommy & Chuckie's Present
Tommy & Chuckie Sleeping Under The Tree
Computer Backgrounds / Wrapping Paper 1998
Also from Nick UK, the following are festive backgrounds for your computer. With a printer, you could also use these as wrapping paper.
(©1998 Viacom.)
Tommy, Chuckie, Angelica & Spike