The Movie On Video -- US & Canada
---
For information on foreign video versions (including foreign DVDs), click here.
---
For a comparison of "The Rugrats Movie" and "Rugrats In Paris" DVDs, click here.
---
| | |
| --- | --- |
| | (Left : Case for The Rugrats Movie video; Above: Animated video logo & part of film site menu from Nick.Com. All ©1999 Viacom.) |
The Rugrats Movie was released on home video in the US & Canada on March 30. The SRP for the video is US$26.99 ($28.95 in Canada) for VHS; $29.99 for DVD ($39.95 in Canada), though most retaillers will sell it for less, some for half the SRP.
As for "Fetch", the CatDog short that preceded The Rugrats Movie in theaters, it won't be available on video, but it had its TV debut Monday, 2/15/99 at 8:30PM ET on Nick, as part of a special week of CatDog episodes in that time slot, 2/15-19/99. However, another CatDog short, "Winslow's Home Movies" (a.k.a, "Winslow's Documentary"), will precede The Rugrats Movie on video. CatDog will also have their own videos available at the same time: "Together Forever" & "CatDog vs. The Greasers". These videos will have an SRP of $12.95, and will be available in the US only (probably due to the fact that no Canadian broadcaster has picked up CatDog yet).
There will also be special offers and discounts from various sponsors of the promotion, including Mott's, which will offer an inflatable Rugrats Movie chair, and Lincoln-Mercury, which will present a contest (click here for details).
Viacom also has big plans for the video's release -- for details, click here.
---
Special Premiums:
Some discount retail chains have different premiums included with the videos. Premiums vary by retailer, and are available in the US only, unless specified.
| | |
| --- | --- |
| Retailer: | Premium: |
| K-Mart | Adventure Poster |
| Wal-Mart | Growth Chart (also at Canadian Wal-Marts) |
| Meijer | Jr. License Plate |
DVD Note:
The DVD version will also include menus, scene selection, trailers and both widescreen and pan-and-scan versions of the film with surround-sound soundtracks in English and French. The DVD is region 1 (US & Canada), but will work on any DVD player or computer drive that accepts all 6 regions. Because of this, The Rugrats Movie US DVD is offered for sale outside the US & Canada as an import item, even in countries where the film is currently seen in theaters or not released yet.
DVD compatibility is divided among regional lines, rather than color lines (NTSC, PAL, SECAM); DVD regions are determined in respect to distribution.
Here's a chart of the 6 regions and the areas they cover:
| | |
| --- | --- |
| Region | Areas Covered |
| 1 | US & Canada |
| 2 | Most of Europe & Middle East, plus Egypt & South Africa |
| 3 | South Korea, Japan, Thailand, Vietnam, Borneo, Indonesia |
| 4 | Australia, New Zealand, Latin America & Caribbean (including Mexico, Brasil & the Bahamas) |
| 5 | India, Africa (except Egypt & South Africa), Russia & CIS republics |
| 6 | Communist China (including Hong Kong) |
For example, DVDs from Australia (traditionally a PAL country) will play in Mexico (NTSC), but not on region 2 only machines in the UK (PAL). Also, DVDs from Canada will play in the US, but if the machine is strictly region 1, it won't play DVDs from neighboring Mexico, though all 3 countries are NTSC.
One good international DVD player is the the Apex AD-600A, which plays various CD formats and all 6 regions in NTSC and PAL, among other functions. And it's cheaper and more available than you think -- about US$180 at Circuit City. For more details, click here.

Laserdisc Note:

A Laserdisc version of the film was released on 4/20/99; apparently, it has the same features as the DVD. There's also a list of scenes and musical numbers listed on the back of the jacket, very common on most Laserdiscs. The Laserdisc has an SRP of US$29.99, and is available through Pioneer. The main drawback is unlike videocassettes and DVDs, you need to get up and turn the Laserdisc over, just like a conventional vinyl record -- Laserdiscs can only fit 60 minutes of programming on each side.

(Left & Right: Front and back of the jacket for The Rugrats Movie Lasterdisc, from eBay; ©1999 Viacom.)
Below: The front & back covers of the Japanese laserdiscs of The Rugrats Movie, also by Pioneer. The features are the same as the US version, except that it has Japanese covers and Japanese subtitles (otherwise, English dialogue). (From eBay; ©1999 Viacom.)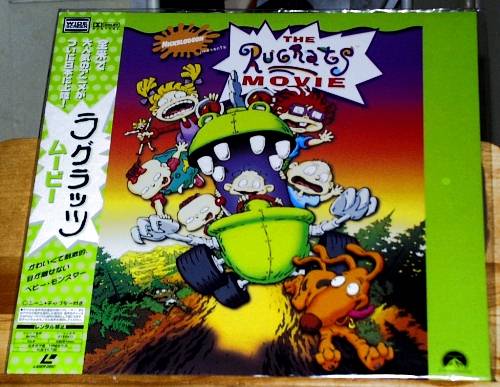 Spanish Note:

The dubbed Spanish version of the VHS video is also available; the SRP is the same as the English version: US$26.99. This version is sold mainly in Hispanic markets in the US. Amazon.Com has both English & Spanish versions in stock.

The Spanish version has the same features as the English edition, including the CatDog short. The blurbs on the tape case also come from the same source, though translated into Spanish (such a disclaimer is included). Also, in a rarity for any Spanish-language video in the US, the Spanish version is closed-captioned; most Spanish versions of other films don't have closed-captioning, like their English counterparts.

(Left : Case for the US-Canada Spanish-language edition of The Rugrats Movie video. ©1999 Viacom.)
Above: Case for the French version of The Rugrats Movie (Les Razmoket, Le Film).

Below: Close-up of French CatDog logo (Michat Michien). Like the English & Spanish version, it's included in the video.

(Both ©1999 Viacom.)

Special Canadian Notes:

The SRP is C$28.95; about US$19.69, over US$7 cheaper than the US SRP of US$26.95. The prices at Canadian discounters are probably the same as those in the US, after monetary conversion.

Videos sold in Canada are made in Canada and have the Canadian video "G" rating where the US "G" rating normally goes, except on videos sold at Wal-Mart; Wal-Mart videos are imported from the US and have a sticker of the Canadian "G" rating pasted over the US "G" rating.

The French version of the VHS video is available in Canada, mainly in Quebec and the Ottawa area. Anyone in Canada & the US can order the French version of the film from Diffusion Franco, an Ottawa dealer that specialises in French language videos & software; it's available for C$28.99 plus shipping. For details, visit their site.

The French version has, obviously, dubbing and case artwork in French, as are the blurbs on the case, which are from the same US sources as the English and Spanish versions. It also has the CatDog short. However, there's no reminder about blurb traslation; also, this version is NOT closed-captioned (as it was in English & Spanish).

| | |
| --- | --- |
| | Also, in addition to the Canadian video "G" rating (above), all tapes sold in Quebec have a second rating ("G") from the Régie du cinéma, this is found on the sticker on the back of the video (left). |
---