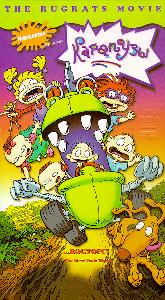 Left: Front cover of the legal Russian version of The Rugrats Movie, which is entitled Karapuzi ("Tots"), while the original TV series is titled Okh, uzh eti detki! ("Oh, what the kids!"). This is unusual for a foreign TV series to go by 2 different names; in most countries, they use the same name for TV series, videos & movies. Note that there's a stamp of Premier's logo on the cover (right), as a mark of genuinity. The quotes are translated from the US version.

To see the front cover, click here.
To see the back cover, click here.
(From Premier Video Film; ©1999 Viacom.)
Far Right: Front cover of the bootleg Russian version of The Rugrats Movie, which hit the streets months before the official version; note that the bootleg also has the Karapuzi title. On the back cover, it lists the copyrights of Paramount Pictures & Supervideo (the bootlegger), but still, it's a bootleg.
Here's the translation of the description on the back:
In a new full-lengh cartoon awaits an interesting story about the adventures of Arnold (sic) and his friends -- tots, who you can see on the TV show...
That is correct -- the bootleggers named Tommy as Arnold, probably confusing Rugrats with Hey Arnold. In the legal Russian version, the names are the same as the English version, and that goes for Tommy, too. As they say, you get what you pay for.
To see the front cover, click here.
To see the back cover, click here.
(Art is still ©1998 Viacom.)