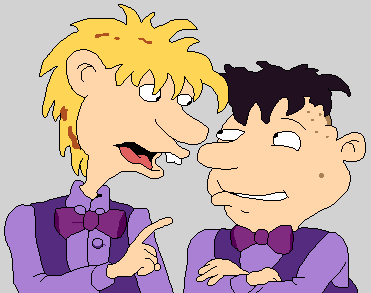 Larry & Steve
Sex: Male (both)
Descriptions: Larry: Tall; long, blonde hair, bucked teeth. Steve: Shorter than Larry; Short, black hair.
First Appearance: At The Movies
Voiced By: Scott Menville (both, 1991-92), Jeremy Sisto (Larry in Angelica Orders Out)
During the early days of Rugrats, Larry and Steve were 2 teenage slacker-types who frequently change jobs, mainly because they mess up all the time. The first time, they were snack bar attendants At The Movies, where the Rugrats messed up the snack bar.. Later, they were Didi's students in Little Dude, in which they refuse to change Tommy's diaper. Later, they were working at the Baseball stadium (not clear on what they do, though). After that, they became stock boys at the supermarket in Incident In Aisle Seven when Tommy tore the place apart. Their final appearance together was in Together At Last, where they were painting the DeVille's house, and ended up messing up everything at the Rugrats' mercy. Finally, Larry appeared by himself as an usher in Let Them Eat Cake; he didn't speak, and nothing eventful happened to him. Their time on the show was short, but their misadventures were long -- on comedy.
Where are they now? They are movers, as seen in the Live Adventure. And on TV, Larry works at Zippy's Deli, as we found out in Angelica Orders Out. He might also have been playing "Piggy" at Piggy's Pizza Palace, though we can only hear his voice.
Note:
There's another animated Larry & Steve, but this one's quite different than the ones on Rugrats. This Larry & Steve is a cartoon short about a man named Larry and his talking dog named Steve, seen on Cartoon Network's What A Cartoon Show; created and produced by Seth MacFarlane, it eventually led to his Family Guy series on Fox a few years later, in January 1999.