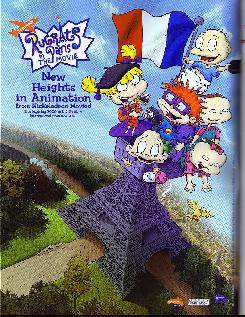 The Advertising Blitz Is Here
As with The Rugrats Movie, the new film will be supported by various ads to be displayed , published or broadcasted by theaters, magazines, newspapers, radio and TV. And in May, the ads started coming in, in the form of large banners. For details, click here.
Also, Paramount is starting to place ads for the film in magazines, starting first with the trades. At left here is a trade ad for the film from the 5/30/2000 issue of The Hollywood Reporter. The same ad also appeared in the June 2000 issue of Animation Magazine, though the ad in that issue was targeted to attendees of the World Animation Celebration. To see a larger picture, click here.
At right is the front cover to a Rugrats In Paris "sneak peek" booklet (also from eBay), a 16-page mini-magazine that explains the details on the film, including a page introducing Kimi. Also included is a 5-page comic story, It's A Tiny World, Compared To Reptar!*, where the Rugrats romp around an attraction with miniaturised people and a gigantic Reptar. There are 2 versions of this booklet -- the first version, at right, was distributed at the Licensing 2000 show in New York City to conventioneers there (that version also had Dil in an ad on the back cover); a second version had a blue movie logo, Tommy wearing a black beret and a movie ad similar to the poster at left here. That version was distributed to movie theaters.
*Comic credits -- Script: Dave Roman; Pencils: Scott Roberts; Inks: Adam DeKraker; Colors: Stu Chaifetz; Letters: Ken Lopez.
(All ©2000 Viacom.)