| | | |
| --- | --- | --- |
| | Magic Adventure! | |
(Above Right: Rugrats Magic Adventure logo, from Universal Studios website; © 2000 Viacom.)
---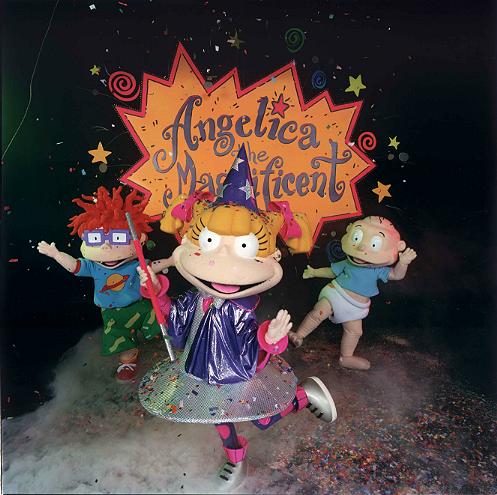 Above: Tommy, Chuckie and "Angelica The Magnificent".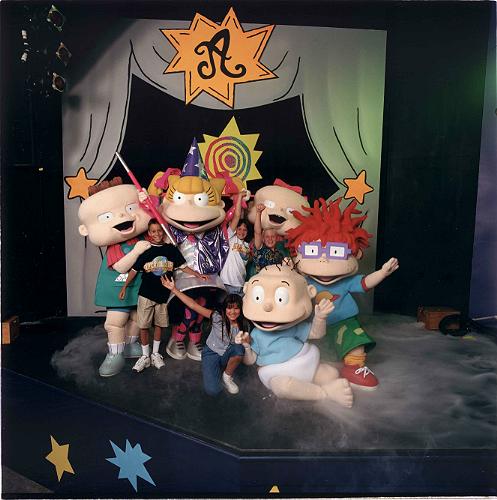 Above: The Rugrats, with some special guests.
(Both pictures above from the "Theme Park Adventure" website; ©2000 Viacom.)
---
Since 6/9/2000, Universal Studios Hollywood presented an all-new stage show with a magical flavor -- Rugrats Magic Adventure!. However, if you want to see it, you'll have to be there. This press release by PRNewswire has the details:
---
Universal Studios Hollywood and Nickelodeon Conjure World-Class Magic and Mayhem as
All-New "Rugrats Magic Adventure!" Toddles to Life on Theme Park Stage
Rugrats Favorites, Angelica, Tommy, Chuckie, Phil and Lil Take Center Stage at Universal's Dazzling New Attraction Opening June 9, 2000
UNIVERSAL CITY, Calif., May 8 /PRNewswire/ -- Combining world-class illusions, animated TV star-power and pure stage wizardry, Universal Studios Hollywood has teamed with Nickelodeon to create the all new "Rugrats Magic Adventure!" bringing America's critically acclaimed, award-winning animated television series toddling to life in an interactive stage performance of music, world-class magic and mayhem beginning June 9, 2000.
Designed to appeal to the entire family, "Rugrats Magic Adventure!" takes its cue from the popular Rugrats episode, "Angelica the Magnificent", launching guests into the imaginary world of the famed diapered tots Angelica, Tommy, Chuckie, Phil and Lil. With elaborate musical production and mesmerizing effects, the world's favorite babies take the audience through a 20-minute stage performance rippling with enough pure energy and stagecraft to captivate young Rugrats fans and dazzle adults in the audience.
Many of the illusions and stunts featured in "Rugrats Magic Adventure!" were designed by the same illusionists who created world-renowned marvels for David Copperfield, Siegfried and Roy, Lance Burton and the late Doug Henning. Magic transformations, levitating diapers and eye-baffling trickery are included in a presentation of world-class illusion.
The pandemonium begins with one wave of Angelica's "wee wizard wand" as she attempts to realize her dream of becoming a world-famous magician. Donning a wizard's cape and cap, wielding a magic wand and chanting magic spells, Angelica the Magnificent bedazzles her fellow Rugrats and the audience with her mystical powers as her tranquil neighborhood backyard transforms into a flashy Las Vegas-style stage show.