Nick's German "Pick-Nick"
---
In 1998, the late Nick Germany released the first issue of their series of mini-magazines called Pick-Nick, which showcases a Nick program each issue, plus provide the latest German Nick schedule. It's unclear whether or not it went beyond the first issue, as Nick Germany closed down in June 1998.
Here are the complete contents of the book , which I won on eBay (©1998 Viacom):
---
Pick-Nick was published in the flip-over style -- the first half featured the Rugrats; when you're finished reading that part, you flip the book over to read the schedule.
---
These pages introduces the reader to the world of Rugrats, and Nickelodeon.
---

This portion probably asks the reader if they have a cousin like Angelica.
---

This is a recipe for a Reptar-style snack.
---
And these, of course, are the Rugrats, and what they do.
---
The Schedule
The flipside of the booklet is the complete schedule for Nick (except for Nick Jr's shows, which were left out). Until Nick closed down in 1998, the channel was on the air like this:
Cable: On air generally from 8AM to 8PM, with the channel sharing space with VH1 on many systems.
Satellite: On air around the clock, with scheduled programming from 8AM to 8PM. During the off-hours, promos for Nick shows were seen, along with small bits and featurettes, mainly those featuring Ren & Stimpy.
On both cable and satellite, Nick Jr. programming was seen from 8AM to 11:30AM on weekdays.
---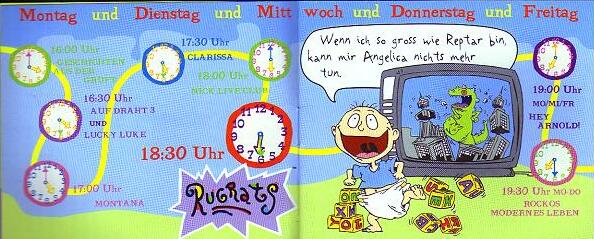 Above is the weekday schedule. Most shows are preceded with, or followed by, brief, home-cooked programming, such as Auf Draht, Joe Razz, Aquariumsoap and Nicks Neues.
---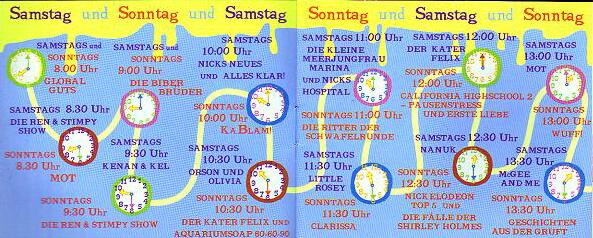 This is the part 1 of the weekend schedule. Some of you may be familliar with Little Rosey, an animated cartoon that starred Roseanne. Also of note is California Highschool 2, which is the German title for Saved By The Bell -- The New Class. And worth pointing out is McGee And Me, a children's show produced by Focus On The Family, a Christian family organisation from Colorado Springs, CO (Who says Nick doesn't show any religious programming?).
---

Here's more of the weekend schedule.
---

And this is the rest of the weekend schedule, with Tommy & Chuckie urging the reader to turn the booklet over (if they haven't read that part yet).