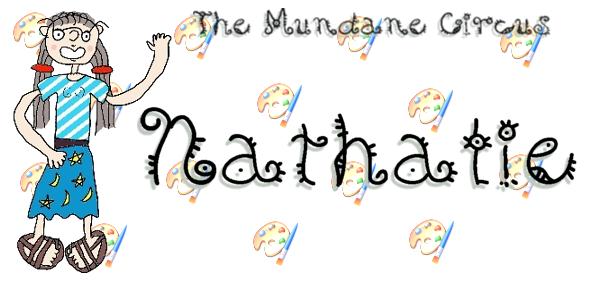 ---
Nathalie Fusey (she prefers to use her maiden name instead of "Torres") is Rafi and Noée's Jewish mother. As with her daughters and Anna, Nathalie may look like a geek, but is actually very smart, knowledgable and friendly.
A native Mauricienne, born as part of a polyamory in Ste-Anne-de-la-Perade, Quebec in 1957, Nathalie was a university student double-majoring in art and psychology, moonlighting as a bartender in Quebec City in 1979, where he met her future husband, Hector. Today, she and Hector live in Ann Arbor, Michigan, where she's a psychiatrist, specialising in sex problems.
Her daughters still look up to her very fondly. As you will find out later on, she isn't your ordinary mother, but she is a devoted one nevertheless, giving advice that her daughters often quote in conversations. She was also the one who told them to take up art and use their hidden talents; she said, "the gift of art is the most important talent to ever have; lose it, and you have just lost the meaning of life." As for their hidden artistic talents, she said, "your hidden artistic talent is like hidden treasure -- find it, and reap its rewards."
Nathalie also enbraces her Jewish religion and heritage, though there are a few things about Judaism that she doesn't agree about -- in terms of modern times and, most importantly, politics. There's also one Jewish tradition that she made up -- and it has something to do with the sandals she, and her family, wears.
One thing she absoluely won't do is let her daughters down -- it's a promise she made when they were born. She started the promise, beginning with Rafi's birth in 1982. It was important to her, for in 1977, her first daughter, a result of a rape, was a stillborn (she died at birth).
She also has a long-time friend, Hélène, who's been living with Nathalie and Hector since they got married, being part of a polyamory. This was due to the fact that she loved Hector and wanted to be a mother, but she also loved Hélène -- and she couldn't bear to choose one or the other.
---
---