The

On The
Hollywood Walk Of Fame
---
(Left: The Rugrats' star; from Cooltoons; ©2001 Klasky Csupo.)
(Right: Pictures from the Rugrats' Hollywood Walk Of Fame ceremony on 6/28/2001; from Nick.Com; ©2001 Viacom.)
On June 28, 2001, the Rugrats received a star on the fabled Hollywood Walk Of Fame. The Rugrats themselves (actually, people in oversized Rugrats costumes) were there, along with the voices of the show, the staffers and 2 of their creators, Arlene Klasky and Gabor Csupo.
To put things in perspective, this is also Nickelodeon's first star, as well as the second involving Klasky-Csupo (The Simpsons was the first, awarded in 2000, in celebation of that series' 10th anniversary).
When in Hollywood, you can find the Rugrats' star in front of Hollywood Toys & Costumes, 6600 Hollywood Blvd., near Cherokee, and between Whitley Av. & Las Palmas Av. The Rugrats' star share the same block (between Whitley and Las Palmas) as the stars of Jamie Lee Curtis, Fleetwood Mac, Frank Capra, Buster Keaton, Al Jolson, Red Skelton, Leonard Nimoy, Nat "King" Cole and Harrison Ford.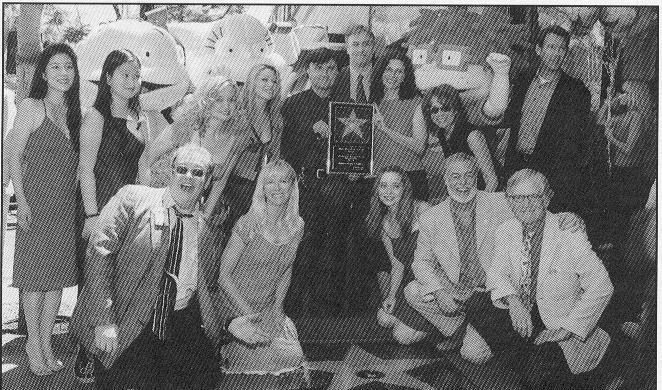 (Above: A family picture of the Rugrats, the cast and the crew at the Hollywood Walk of Fame ceremony, from Julia Kato's ad in the 7/20/2001 issue of Daily Variety; ©2001 Julia Kato.)