| | |
| --- | --- |
| | Merchandising & Promotions |
---
"Odorama", Brought To You By Burger King & Blockbuster
(Above: Burger King Odorama card, available with kids' meal purchase. From Animation World; ©2003 Viacom.)
Moviegoers can also experience the smells of the film as well, with a special process called "Odorama", not unlike the efforts attempted by B-movie hucksters in the 1950s and 1960s (and, more recently, John Waters in the early-1980s). Apparently, the Odorama stunt will tie in with a scene where Spike loses his smell, and, probably, counts on the audience to help complete his mission.
Special numbered cards, each representing a particular smell (smelly feet, strawberry, peanut butter, a flower, a root-beer float and a fish; sorry, no used diaper smells) were given away with kids' meals at participating Burger Kings starting 6/2/2003, until 6/29/2003 (see below), and separately at Blockbuster Videos starting 6/15/2003.
Participants pick up the cards, then take them to the local movie theater showing the film. When a particular number flashes on the screen, viewers scratch off the scent that has that particular number on it. Numbers flashing in red mean that the viewer should find the corresponding number on their card (glow-in-the-dark for their convenience), and be ready to scratch-and-sniff when the on-screen number turns green.
---
Embassy Suites



In March, Embassy Suites has fired the first salvo in the promotional blitz, according to their press release:

Embassy Suites (the #1 Family hotel) and Nickelodeon (the #1 kids Network) are teaming up again to present Rugrats Go Wild Summer Trip Packs. Adventurous kids will love staying at Embassy Suites because when you book the Nickelodeon Package your family will receive two Rugrats Go Wild Summer Trip Packs filled with kid-friendly survival essentials. Another enticing reason to make reservations at Embassy Suites, this summer's Trip Pack is sure to turn every family's stay into a memorable adventure. Rugrats Go Wild Summer Trip Pack includes: An Essential Survival Knapsack, a real camera with film, a handy telescope, a travel journal with stickers, two scented markers, and a paw print stamper. Valid Thursday-Sunday from May 23-September 28, 2003. Two Packs per reservation, additional packs may be purchased at check-in, request "Nickelodeon Summer Trip Pack" when making your reservation. Mention Code: S-NIC

(Left: The "Rugrats Go Wild Summer Trip Pack", from an Embassy Suites ad in the April 2003 issue of Nickelodeon Magazine; ©2003 Viacom. To see the entire ad, click here.)
In May's Nick Magazine, Embassy Suites has placed another ad for their promotion, including a match-the-voice game (please note that Tom Kane (a.k.a. Darwin) has his last name spelled "Cain"). To see a larger version of this ad, click here. The ad also mentions that there will be another game in the June issue.

©2003 Viacom.
Embassy Suites is also co-sponsoring a special contest where 5 lucky winners will receive a 7 day, 6 night, round-trip vacation for 4 people to an Embassy Suites hotel in Puerto Rico (top right), where they'll also receive US$1000 cash, plus join the fun at a special "island party" (Total Value: US$6800 for each prize package). 500 people will win a consolation prize -- a "Rugrats Go Wild Island Survival Kit" (bottom right), consisting of a bag, frisbee inflatable mattress, waterbottle and goggles -- all emblazoned with the "Rugrats Go Wild" logo (Total Value: US$15 for each prize package).

Participants aged 5 to 15 years may enter either by mailing their entries in, by buying specially marked Cap'n Crunch or Life cereals, or online at Nick.Com.

Contest closes 10/24/2003.

(All graphics from Nick.Com; ©2003 Viacom.)



---
Burger King
Starting in June 2003, Burger King restaurants in the US, Canada and some Caribbean countries will be offering special kids meals related to the film -- each of them, of course, including a free toy.

Toys to be featured are:

Donnie's Bug-O-Torium
Rock-Diaper-Scissors
Scared-O-Cat Chuckie
Eliza's Card Caddy
Spike's Crazy Maze
Angelica's Bathysphere
Snap Shot Susie
Hula Debbie Memory Game

I'll have more information on these toys here, as they become available.

Burger King will also be offering scratch-and-sniff cards for movie-goers to take with them when they go see the film (see above).

(Left: Teaser poster for the Rugrats Go Wild kids meals, which went up at US Burger Kings in April 2003. From eBay; ©2003 Viacom)
---
Quaker Cereals
Starting in May, Cap'n Crunch cereals will offer a special Rugrats Go Wild version of the cereal, complete with "berries" shaped like the characters from the film, which change color in milk.

Also, Quaker Instant Oatmeal will also publicised the home video release of the film, starting in September.
---
Kid Cuisine TV Dinners
Beginning 6/1/2003, Kid Cuisine will offer two limited edition Rugrats Go Wild themed kids meals including Rugrats-shaped pasta, jungle animal-shaped fruit snacks, comvee-shaped and binocular-shaped breaded chicken patties and vanilla pudding with color changing beach sand sugar and palm tree spinkles. Also, boxes of Kid Cuisine's regular meals will feature special game pieces to be used for the Rugrats Go Wild Ultimate Island Adventure game boards, which will be published in the June 2003 issue of Nickelodeon Magazine, and will also be available at Nick.Com.
And starting 6/2/2003, Kid Cuisine will launch their "Ultimate Island Adventure" sweepstakes, where one lucky winner will win a trip for a family of four to the Beaches Boscobel resort in Jamaica. Thousands of smaller prizes will also be awarded.
---
Sunkist
Sunkist, will be conducting 2 contests -- one for consumers will give them a chance to win a US$25,000 vacation package, while another contest, for schools, gives them a chance to win US$2500 in sports equipment for the school.
Sunkist will also be including one of 6 trading cards in each specially-marked bags of Sunkist's citrus products -- each card will include facts and recipes.
---
Skippy Peanut Butter
Skippy will offer one of 4 bobbleheads based on the film -- Spike, Tommy, Donnie, and Eliza -- free, with 2 proofs of purchase from 18-ounce jars of Skippy Peanut Butter or packages of Skippy Squeeze Stix.
---
Valpak
Valpak, the people responsible for those blue, junk-mail envelopes containing coupons and flyers from local merchants in the US & Canada, will hold a sweepstakes, awarding lucky winners to Universal Orlando. Also, screening passes will be included in randomly-selected envelopes.
---
Other Sponsors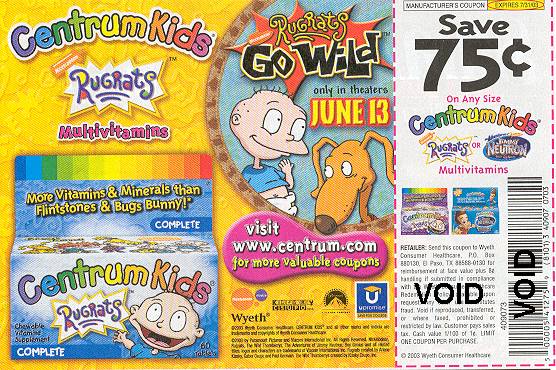 (Above: From a coupon supplement distributed in US newspapers on 5/4/2003. © 2003 Viacom.)

Some sponsors, such as Centrum Kids (above), will also have tie-ins to the film.
According to Simon & Schuster, the following sponsors will also have special promotional tie-ins with the film (as of January 2003):
Quaker Life cereals (US$3 million in TV advertising total)
Quaker Chewy Granola Bars
Chef Boyardee

In addition, count on toys from Mattel, video games from THQ, coloring books from Golden Books, and a soundtrack from Jive Records.
---