Press Kit
---
Note:
All images on this page come from The Rugrats Movie press kit, and is ©1998 Viacom.
---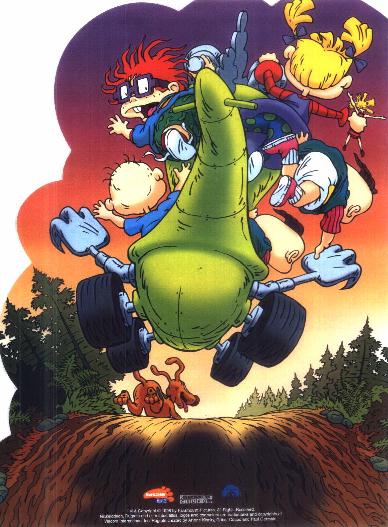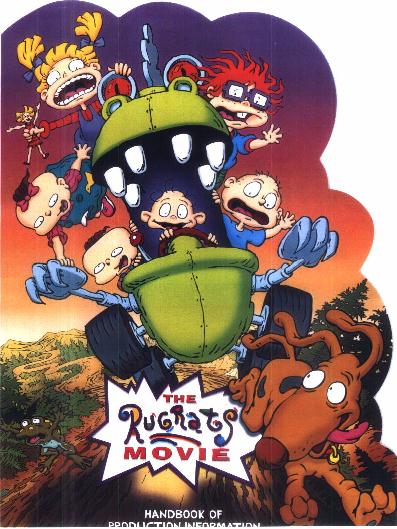 Above: The cover of the film's "Handbook of Production Information". The front cover (right) is the same image as the movie poster; the back cover (left) is the back image of the Rugrats and the Reptar Wagon, except for Chuckie, which looks towards the reader.
---
From the inside front cover of the press book:

Left: A picture of Angelica, dressed up as "Shirleylock Holmes".

Right: A close-up of the Shirleylock Holmes satchel, with a picture of Shirleylock on it. Even though Angelica pretended to be Shirleylock in the film, the appearance of Shirleylock herself is very limited; she's only seen on the small TV screen at Tommy's house for about a second during the show's intro into a commercial break.
---
Close to the release date of a film, the distributor's publicity department sends out press kits to various media groups, such as newspapers, magazines & TV stations. These press kits are designed so the writers or reporters assigned to write a story on the film can get a better idea on what the film's about, how it's made, and who the characters and voices are.

The contents of the press kit includes:

Outer folder: Includes picture of Pickles family & Dil on front cover, with movie credits inside.

Inner folder: Same cover picture as above, but has pockets to hold contents of press kit.

Handbook of Production Information: The press book, has information and pictures about the film and the show.

Press pictures: (example at right) 4 stills of scenes from The Rugrats Movie, suitable for publication. includes movie &n production logos, production information, and picture captions.

Collector's value of the press kit range from US$10 to US$22.
---
The Video Press Kit
Also issued when the film was released was a video press kit, which was a 45-minute video on a 3/4-inch U-Matic video tape issued to TV stations, containg material to provide stations with material that can be used on their local newscasts. The tape includes 2 trailers from the film, interviews with the producers and stars, and selected scenes from the movie. Since the press kit is on a U-Matic tape (I don't know if a VHS version exists), it can only be used on U-Matic machines, mainly available only to TV stations and producers; there are some old U-Matic players in existence, used by schools, institutions and some private individuals, but they never were popular among casual video fans since its 1972 launch, due to the bulkiness and weight of the players, the inability to edit U-Matic tape, and later, competition from Beta and VHS. Because of this, the tape's value is very low, around US$3 to US$5.
---