| | | |
| --- | --- | --- |
| The First | | Merchandise Item |
---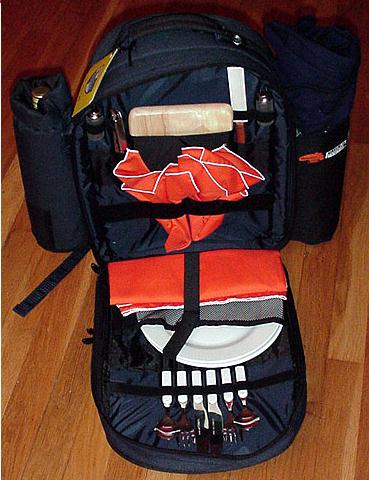 (Above: The Rugrats In Paris backpack picnic kit, with all its accessories, including special, alcohol-free "Rugrats Whine". From eBay; © 2000 Viacom.)
---
Considered to be the first licensed item related to the new film (to me, at least), is this Rugrats In Paris backpack picnic kit. Mainly an elaborate promo item, rather than something to buy off the shelf, the kit includes the following:

2 sets of knives, forks & spoons
combination corkscrew / bottle opener / pocket knife
Picnic blanket emblazoned with the logos for the film and the producers
A botle of Inglenook St. Regis de-alcoholized "Rugrats Whine"
video of the movie trailer
All those items are enclosed in a navy-colored backpack with the film logo on the front and 2 detachable side holders.
This is mainly a promo item, not very likely to be found in stores, but if it was, the value would've been worth US$100 for a set similar to this. Also, in my opinion, this is probably the most elaborate Rugrats item to hit the market.
---