Remember
"Santo Bugito"?

(Left: Carmen; Right: The Singing Ants, from Santo Bugito; ©1995 Klasky-Csupo, Inc. From a 1997 Kinderkanal promo.)
---
Santo Bugito, K-C's first animated network series, debuted Saturday morning, September 16, 1995, on CBS. It shuttled around 4 timeslots during its brief run; it was cancelled during the 1995-96 season, and was abruptly removed from the schedule in August 1996.
Santo Bugito was the first Saturday morning series to be created, produced and presented by an independent animation studio (all othere were either produced by major studios and companies, or by independent firms, with backing by major companies).
Though many people, both viewers and the industry, forgotten all about this program, Klasky-Csupo hasn't -- a series of children's books are now in the works, featuring the bustling 64-million bug city. And, most importantly, home videos of this 13-episode series are now available in the US and Canada.
And while this animated series is, more or less, obscure, its concept was later used in 1998 in 2 popular animated films about bugs -- Antz and A Bug's Life.
---
Bouncing Around The Schedule Like Fleas

While Santo Bugito was an admirable, worthy series, CBS's programming department thought otherwise, as they shuttled the show around 4 different time slots before taking it off the air entirely in 8/10/96. Here's where the show was on CBS (all times ET; some stations may have pre-empted or delayed the program); on 8/10/96, Timon & Pumbaa replaced it abruptly; it remained in the TV schedules until 8/24/96.


| | |
| --- | --- |
| 9/16/95 & 9/23/95 | 11:30AM to Noon |
| 9/30/95 to 11/18/95 | 10:30AM to 11AM |
| 11/25/95 to 5/11/96 | 11:30AM to Noon |
| 5/18/96 to 8/3/96 | 8AM to 8:30AM |
| 8/10/96 (approx.) | Off The Air |

(Source: The Encyclopedia of Daytime Television, by Wesley Hyatt; Billboard Books, 1997)

(Left: One of Santo Bugito's singing ants, from KCBS's website in 1995; ©1995 Klasky-Csupo.)
---
See Them Again...And Again...And Again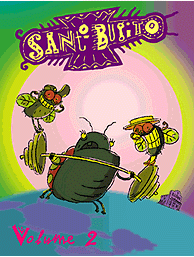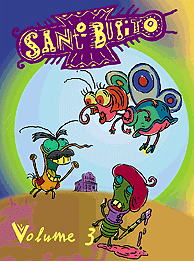 (Above: the complete US Santo Bugito video collection, from Klasky-Csupo's website; ©2000 Klasky-Csupo, Inc.)
If you missed Santo Bugito when it was on CBS, here's your chance to see them again, anytime you want, and as many times as you want. Klasky Csupo and Image are now offering the entire 13 episode series on 3 VHS tapes and DVDs. The VHS tapes (NTSC) costs US$12.95 each, and the DVDs (region 1) are US$19.95 each (plus shipping, of course). Volume 1 has 5 episodes, while Volumes 2 & 3 have 4 episodes each. Tapes are available through Klasky-Csupo or through Facets Video.

For the record, the US videos are not the first Santo Bugito videos on the market. The first ones were released in Britain in PAL color in the late-1990s, and featured only 3 episodes on each tape. So far, only 2 videos were released in Britain, and retailled for about £5.99 each (approx. US$9.70 each).

(Left & Right: the first 2 tapes of the British Santo Bugito video collection, straight from the jacket backs; © Warner Vision International (UK) & Klasky-Csupo, Inc.)