At Burger King --
November & December, 2000

(Left: Burger King's Rugrats In Paris ad, from that film's "Sneak Peek" booklet; ©2000 Viacom.)
---
From 11/13/2000 to 12/10/2000, Burger King promoted Rugrats In Paris, spending US$20 million for the usual promotional blitzes and toys in kids' meals. Burger King had the option of either tying in with Rugrats In Paris or Jim Carrey's How The Grinch Stole Christmas (which ended up at Wendy's and besting Rugrats at the box office), but opted for the Rugrats, as they were successful with the first film, plus the Rugrats are more recognizable than Dr Seuss' Grinch.

The promotion was available at participating Burger Kings in the US, Canada, Puerto Rico, Virgin Islands, Bahamas, Cayman Islands, St. Maarten, Aruba, Curaçao and Jamaica, plus US Armed Forces bases worldwide, via AAFES. And as the film is released in other parts of the world during 2001, the promotion will be available in about 30 other countries at Burger King and its affiliates (such as Hungry Jack's in Australia and Quick in France & Belgium).

At left is the Burger King Kids Club Adventures magazine that coincided with the movie. Click here for a larger image. Can you find the hidden Rugrats on that cover? Given hint: there are 5. Real hint: all but one of the Rugrats are already there; just find the other Rugrat, and 4 other characters that are associated with the Rugrats. (Answer below)

(Left: From V.11 #11 of Burger King Kids Club Adventures, © 2000 Burger KIng Corporation. Rugrats characters are © 2000 Viacom.)
---
The promotion ended after 12/10/2000, replaced with yet another promotion featuring, yes, Pokemon. Some restaurants may have watches and/or toys left over -- ask them for details.
---
The Toys
The promotion featured 8 toys -- 2 released per week; one included with every kids' meal. Inspired by the movie, the toys all feature a ride at Reptarland. They can work alone, or they can be connected together and run simultaneously. The miniature Rugrats figurines are detachable, and can be used on any ride, with the Reptar Rider and Daktar's Descent accommodating 2 riders.
Here are the toys, as well as their descriptions. It should be noted that assembly is required for some of these toys.
(Pictures and additional information from eBay, descriptions from a Burger King press release, via PR Newswire; all ©2000 Burger King & Viacom.)

Tumbling Kimi Volcano presents Kimi, the newest Rugrat to join the gang. When placed at the top of the volcano, Kimi tumbles down end over end in her Reptar Car.
Daktar's (sic) Descent With Lil features Lil driving her own Robot Car and lets up to two Rugrats sit on Daktar's (sic) wings and hang on for a wild spinning ride.
Susie's Super Spiral has Susie in a Rocketship. Her ship prepares to launch by plugging into the top of the toy and the Rocket Car slides down suspended from the track.
In Reptar Rider, Tommy sits in his own rad racing convertible, ready to ride the Robo Reptar! Up to two Rugrats can ride inside the claws of the Robot while he spins them around.
Dil's Ooey Gooey Roller Ride features Dil in his cute Clown Car gliding down a fun, slippery slide that lifts him back up to the top.
The Rumbling Robot Buggy has Chuckie holding on tight for a bumpy ride. When his car is locked into the port, he can be wound up then released with the trigger. This toy also comes with fun stickers to decorate the ride.
Phil's Snail Spinner is unlike any other Ferris wheel. Phil is locked in his Spaceship for a whirling ride that lights up.
Angelica's Princess Castle Ride completes the Rugrats adventure with Angelica, the princess of the pack. In her Dragon Boat, Angelica rides up the steps of the castle, then glides down the waterfall.

---

Note: (by me)

Earlier, according to eBay, it was announced that Chuckie's toy was to have been the Sumomania Wrestle Ring (left), where Chuckie, or any other Rugrat, can wrestle with the sumo wrestlers. The way it worked was to wind the toy up by turning the wrestlers; then you insert Chuckie into the ring. Then flip the switch to start the action. Apparently, this toy didn't go well in the early stages, and was replaced by The Rumbling Robot Buggy.
---
The Watches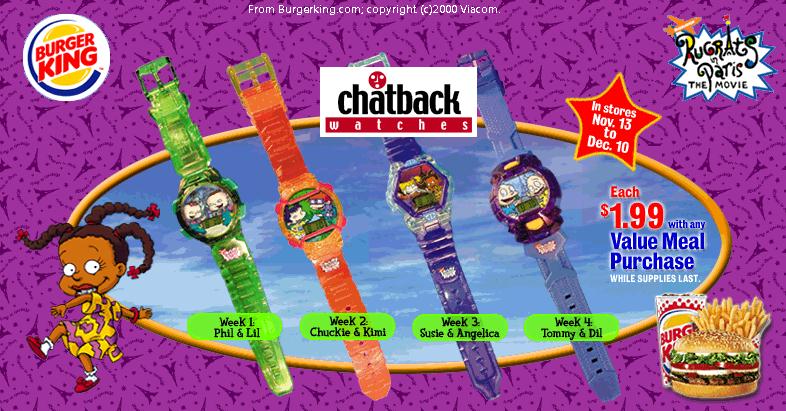 During the promotion, Burger King also offered 4 special Chatback watches, with each watch featuring a mini-conversation between 2 Rugrats. One watch was released per week, and sold for US$1.99 with any value meal purchase.
There were 4 watches featured:
(Pictures from Burger King's website; all ©2000 Burger King & Viacom.)

Phil & Lil

Phil: It's an alien!
Lil: It's Reptar!
Phil: Wow!
Lil: This is great!

Kimi & Chuckie

Chuckie: It's a 'moozement park!
Kimi: That's scary!
Chuckie: You're not too brave.
Kimi: I'm not goin'!

Angelica & Susie

Susie: I'm gonna sing!
Angelica: Now what?
Susie: Listen to me!
Angelica: Don't interrupt.

Tommy & Dil

Tommy: Wanna play, Dilly?
Dil: My Tomby!
Tommy: Let's do it!
Dil: Play! Play!
---
Advertising Banners For The Watches
These banners are used by some Burger King restaurants to advertise the watches.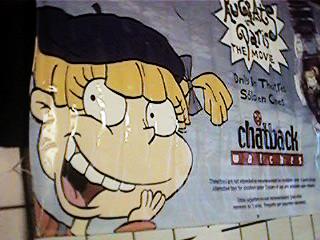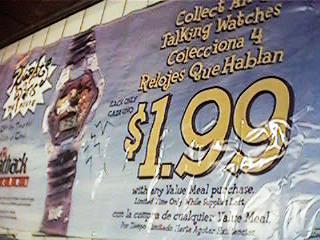 Above: Horizontal banner pitching the watches, featuring Angelica.

Right: Vertical ad banner, featuring Tommy.

(Both banners from eBay; ©2000 Burger King & Viacom.)
---
Each kid's meal also included a Kimi passport stamp (left), to be used for your Rugrats passport, which can be used as an entry for a chance to win a trip to Paris.

(Left: From Nick.Com's Rugrats In Paris site; ©2000 Viacom.)
---
Answers to cover puzzle:
(going clockwise)

Susie
Stu
Grandpa
Spike
Reptar