At Burger King --
November & December 1998

(Above center & right: Rugrats Movie toys from Burger King Kids Club meals. From www.tvmovie.de (Burger Kings in Germany offered these toys in May 1999); Above Left: Ad for The Rugrats Movie promotion at Burger King (from eBay); all ©1998 Viacom.)
In France & Belgium, these toys were also sold at Quick Burger in France & Belguim, and at Hungry Jack's in Australia.

During a Rugrats Movie promotion that started around 11/23/98, and lasted through December, Burger King offered 12 toys featuring the Rugrats and the newest kid on the block -- Dil. 2 different toys were issued each week, with a purchase of a Kids Club meal.
Also, 4 different watches were sold for $1.99 each, with a Kids Club meal or Value Meal purchase. Watches include:
Reptarmania: With "Animated Action".
Talking Tommy: Tommy says "A Baby's Gotta Do What A Baby's Gotta Do."
Chuckie's Bananarama: Watchband smells like bananas.
Angelica's Floating Flowers: Watch face has flowers that float.
According to Animation World Network, 5 cents from each watch sold will go to the American Red Cross and the United Way to aid relief efforts for victims of Hurricanes Georges & Mitch.
Volume 9 Issue 8 of Burger King Kids Club Adventures includes a "photo box" to build, a word search, trivia about the movie and an "interview" with Tommy.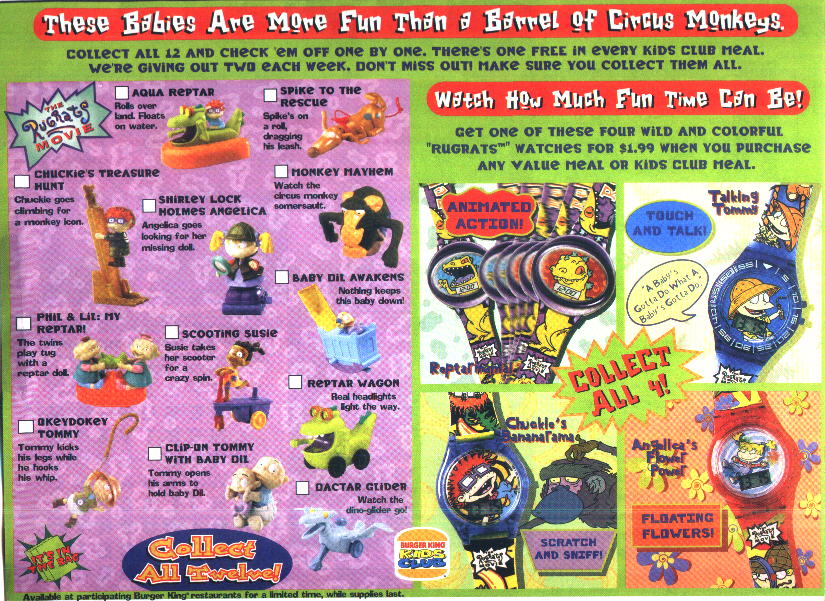 Above: Rugrats Movie toys and watches available at Burger King.
(From V.9 #8 of Burger King Kids Club Adventures, © 1998 Burger KIng Corporation. Rugrats characters are © 1998 Viacom.)