| | | |
| --- | --- | --- |
| What Was On TV When | | Started |
---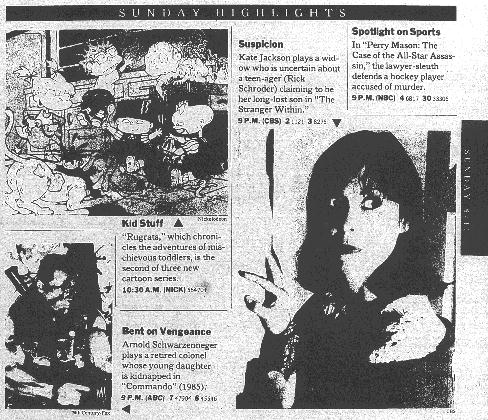 (Above: Rugrats and other shows scheduled for August 11, 1991, from the New York Times "Television" magazine; image from microfilm. © 1991 New York Times Company.)
And now, here's a look at the shows, channels and events that lit up the screens the week Rugrats first went on the air in August 1991.

(Above: 1991 Ad from Sound Advice,
a Florida electronics chain, advertising
TVs, plugging The Simpsons on the side.)

Ratings

The top 10 TV shows for the week ending 8/4/1991, according to Nielsen:
(When Rugrats premiered, it was during the summer repeat season.)

1. Roseanne, ABC
2. 60 Minutes, CBS
3. Coach, ABC
4. Designing Women, CBS
5. Unsolved Mysteries, NBC
6. Murphy Brown, CBS
7. Cheers, NBC
8. 20/20, ABC
9. Northern Exposure, CBS
10. Murder, She Wrote; CBS

Among other notable shows:

13. Full House (ABC)
15. In The Heat Of The Night (the series) (NBC)
17. Fresh Prince (NBC)
22. Married With Children (Fox)
23. Beverly Hills 90210 (Fox)
25. The Cosby Show (NBC)
26. Evening Shade (CBS)
29. America's Funniest Home Videos (ABC)
31. Circus Of The Stars (CBS)
32. Doogie Howser, MD (ABC)
33. Growing Pains (ABC)
34. Night Court (NBC)
35. Matlock (NBC)
37. In Living Color (special) (Fox)
38. Perfect Strangers (ABC)
39. Law And Order (NBC)
42. Hi Honey, I'm Home (ABC)
43. MacGyver (ABC)
45. LA Law (NBC)
46. The Simpsons (Fox)
47. Wonder Years (ABC)
50. Seinfeld (NBC)
52. Golden Girls (NBC)
53. In Living Color (regular) (Fox)
58. Thirtysomething (ABC)
63. Police Squad (repeats of 1982 ABC series) (CBS)
66. Get A Life (Fox)
67. America's Most Wanted (Fox)
72. Life Goes On (ABC)
73. Cops (Fox)

And now, the bottom 10 shows for that week. Remember these?

75. Verdict (CBS)
76. Whose Side Are You On? (CBS)
77. Morton & Hayes (CBS)
78. Parker Lewis Can't Lose (Fox)
79. Big Deals (ABC)
80. Totally Hidden Video (Saturday) (Fox)
81. Totally Hidden Video (Sunday) (Fox)
82. Comic Strip Live (Fox)
83. Turner and Hooch (The Series) (NBC)
84. Babes (Fox)
Melanie Chartoff Can't Lose
Above: Fox network ad for Parker Lewis Can't Lose, from the Western Illinois edition of the 8/10/1991 issue of TV Guide. The second season opener of Parker Lewis was on the same day as the start of Rugrats on Nickelodeon (this was at a time when Fox started most of their new shows in August, rather than September or October). Also, Melanie Chartoff was a busy actress on TV at the time -- in addition to being the voice of Didi on Rugrats, she was also school principal Ms. Musso on Parker Lewis. And if you wanted to catch her on both shows that night, no problem -- Parker Lewis was on at 7:30PM ET, while the repeat of the Rugrats' debut was at 8:30PM ET. In case you're wondering -- on that night's episode, the students and their parents participate in a toaster-building contest.

© 1991 Fox Broadcasting Company; TV Guide provided by TV Guide Specialists.
---
Nickelodeon in 1991

Here is Nickelodeon's schedule for the week of August 10, 1991; all times ET.

* indicates a special showing; beginning 8/18/1991; all 3 Nicktoons would only have one showing each a week, on Sunday mornings. Normally, what's seen on Nick-At-Nite Saturday nights would also be seen Sunday nights.

Left: Examples of some of the original programming that appeared on Nickelodeon in 1991 -- Make The Grade, Kids' Court and Family Double Dare. All of these shows were taped at Nickelodeon Studios at Universal Studios Florida (now Universal Orlando). Universal Studios Florida opened in 1989, while Nick Studios opened a year later, in 1990.

(From a sign that introduced visitors to Nick Studios, sold on eBay; ©1990 Viacom.)
Saturday
Sunday
Weekdays
6AM
Lassie
6:30AM
Littl' Bits
Kidsworld
7AM
Eureeka's Castle
Mr. Wizard's World
7:30AM
Kid's Court
Yogi Bear
8AM
Cound Duckula
Inspector Gadget
8:30AM
Heathcliff
9AM
Inspector Gadget
Cartoon Kablooey
Lassie
9:30AM
Inspector Gadget
Maya The Bee
10AM
Yogi Bear
Doug
Eureeka's Castle
10:30AM
Rugrats
11AM
Out Of Control
Ren & Stimpy
The Elephant Show
(Sharon, Lois & Bram)
11:30AM
SK8TV
Salute Your Shorts
Fred Penner's Place
12 Noon
Dennis The Menace
(1960's sitcom)
Wild & Crazy Kids
David The Gnome
12:30PM
Clarissa Explains It All
The Little Koala
1PM
Lassie
Fifteen
Noozles
1:30PM
Flipper
Welcome Freshmen
Maya The Bee
2PM
Special Delivery:
"Manxmouse"
Special Delivery:
"Adventures Of Tom Sawyer"
Littl' Bits
2:30PM
Lassie
3PM
Special Delivery:
"Drawing A Blank"
Flipper
3:30PM
Special Delivery:
"The Tin Soldier"
Special Delivery:
"Pardon Me For Living"
Looney Tunes
4PM
You Can't Do That On Television
Heathcliff
4:30PM
Make The Grade
Yogi Bear
5PM
Family Double Dare
Mork & Mindy
5:30PM
Salute Your Shorts
Fifteen
Hey Dude
6PM
Wild & Crazy Kids
6:30PM
Welcome Freshman
Clarissa Explains It All
Get The Picture
7PM
Inspector Gadget
7:30PM
Looney Tunes
8PM
Looney Tunes
Doug*
Mork & Mindy
8:30PM
Bewitched
Rugrats*
Bewitched
9PM
Donna Reed
Ren & Stimpy*
Get Smart
9:30PM
Mister Ed
Dragnet (' 67 - ' 70)
10PM
My Three Sons
Alfred Hitchcock Presents
10:30PM
The Patty Duke Show
Green Acres
11PM
Dobie Gillis
Hi Honey, I'm Home
(repeat of latest ABC episode)
The Best of Saturday Night Live
11:30PM
Alfred Hitchcock Presents
Mister Ed
12 Mid
Bewitched
Looney Tunes
12:30AM
Green Acres
Dobie Gillis
1AM
The Best Of Saturday Night Live
The Patty Duke Show
1:30AM
America 2 Night (Fernwood 2 Night)
My Three Sons
2AM
Dragnet (' 67 - ' 70)
Infomercials
Donna Reed
(except Wednesday: Infomercial)
2:30AM
Donna Reed
America 2 Night
(Fernwood 2 Night)
3AM
Mister Ed
Mork & Mindy
3:30AM
My Three Sons
Get Smart
4AM
The Patty Duke Show
Dragnet (' 67 - ' 70)
4:30AM
Dobie Gillis
Alfred Hitchcock Presents
5AM
America 2 Night (Fernwood 2 Night)
Mister Ed
5:30AM
Dragnet (' 67 - ' 70)
Dobie Gillis
---
Saturday Morning in August 1991
At the time, all three of the big three -- ABC, NBC and CBS -- offered Saturday morning cartoons in their line-up. Fox was just getting their feet wet, while Nickelodeon had less-than-stellar repeats of shows such as Inspector Gadget and Yogi Bear.
Here are the Saturday morning schedules for ABC, NBC, CBS and Fox. All times ET; some shows may have been delayed or pre-empted in your area at the time.

ABC
NBC
CBS
Fox
8AM
Winnie The Pooh
Camp Candy
Muppet Babies
Peter Pan & The Pirates
8:30AM
The Wizard Of Oz
Captain N and the
Adventures of
Super Mario Bros.
Bobby's World
9AM
Slimer! And The
Real Ghostbusters
Garfield And Friends
Tom & Jerry Kids
9:30AM
Rick Moranis in
Gravedale High
10AM
Beetlejuice
Kid N' Play
Teenage Mutant
Ninja Turtles
Piggsburg Pigs!
10:30AM
A Pup Named
Scooby Doo
The Chipmunks
Go to The Movies
Attack Of The Killer Tomatoes
11AM
The Bugs Bunny
& Tweety Show
Saved By The Bell
Bill and Ted's
Excellent Adventures
(Local Programming)
11:30AM
The Adventures of
Raggedy Ann & Andy*
12 Noon
Little Rosey
Saturday Videos
(ran only a half-hour
on some stations)
Dink, The Little Dinosaur
12:30PM
New Kids On The Block
CBS Storybreak
* -- Raggedy Ann & Andy was originally seen on on CBS from 1988 to 1990, but starting 7/27/1991, reruns were brought in as a permanent (until the end of August) replacement for Pee Wee's Playhouse (see below).