---
"I remember it as if it was yesterday..."
It all started on Sunday, December 19, 2004 (a work night), right after I went to bed. I haven't even dozed off into dreamland yet when I had a strange vision. For no apparent reason, I pictured a schoolgirl, wearing a school uniform, glasses and braces (on her teeth), and looks kind of stout. There was also a name that went with it -- "Mad Hilda". And then, a light bulb went into my head -- "Why not do a comic strip based on Mad Hilda, based on what's on her mind?"
I know alot of crazy ideas come and go at bedtime, but this was one idea I decided to pursue.
During the next day, over lunch and work, I refined her image in my head, as well as her name -- I couldn't use "Mad Hilda", as there was already a "Broom Hilda" comic strip. I also thought of "Mad Helga", though I couldn't use that either (thanks to Craig Bartlett and "Hey Arnold"). Then, while lunching at Pizza Hut, I thought of a suitable name -- "Mad Anna". After a check on the internet to make sure no one else used that name, "Mad Anna" stuck.
Of course, I had one handicap -- apart from maps and diagrams, I have never drawn anything in my entire life. My drawing skills is eqiuivalent to a late-elementary school student. But I never let that stopped me, as there are artists out there that draw as good as I do (if not, worse) -- and win awards for it.
Then that night, I have drawn my very first picture of Anna: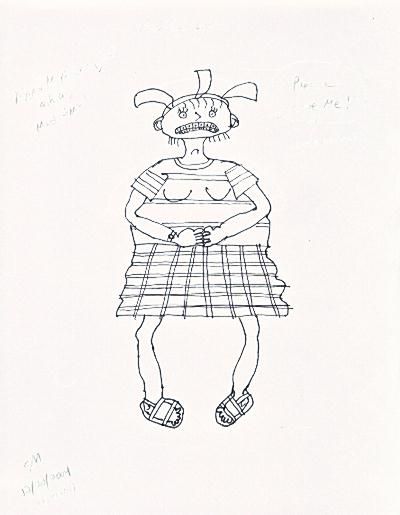 And, shortly after Anna made her first appearance on paper, I drew her first strip -- my first strip.
During the next month, she lost weight and shown her braced teeth less while I continue to hone my drawing skills.
As for her attitude, I decided to make her a 22-year old, single woman who's not afraid to cuss, and who's not afraid to speak her mind. She's also a woman who's an "otaku" -- one who's a fan of Japanese comics and animation.
Of course, a month later, Anna would not be alone.
Later inspired by a scribble, I created a woman who would become Anna's friend (and, eventually, star of this strip), Rafi: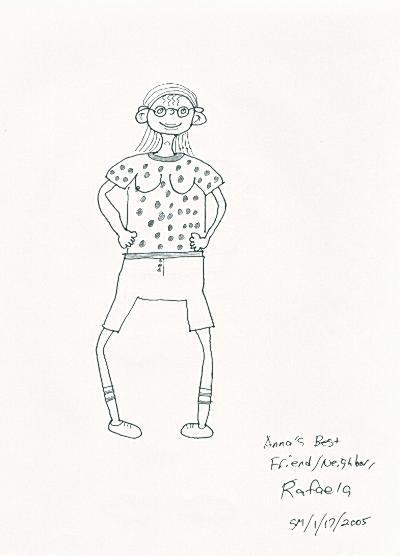 Rafi would have almost the same qualities as Anna with one difference -- Rafaela's a lesbian, while Anna's heterosexual.
Originally, I planned on Rafi to make occasional appearances, but decided on making her a full-time character. In light of that, the name "Mad Anna" would no longer suffice. In its place is a new name, "The Mundane Circus", a name that practically popped into my head.
Later on, Rafi became the lead character, with Anna taking the "friend" role, as I saw more opportunities involving story and character development with Rafi than I did with Anna.
But you ask, "A straight man doing a women's strip with a lesbian lead character?" Don't laugh. In the past 15 years, I have read various independent and underground comics, plus Japanese manga and French BD. Some of these titles are aimed at women, such as "Wimmen's Comics", 'Naughty Bits", "Action Girl", and one series by Joyce Farmer that I won't dare mention here. Many of my favorite cartoonists and anime creators are also women -- Trina Robbins, Roberta Gregory, Nina Paley, Alison Bechdel, to name a few; this list also includes manga creators, like Rumiko Takahashi ("Urusei Yatsura", "Maison Ikkoku", "Ranma 1/2", "Inuyasha") and Yoko Kamio ("Boys Over Flowers"); as well as French BD creators, like Claire Bretecher and, most of all, Florence Cestac. Because of this, I thought it would be natural to do a trip about a woman, without doing anything that would derogatate them.
This is as new an experience for me as it is for you. I hope you enjoy the adventures Rafi and her friends just as much as I enjoy bringing it to you.
---