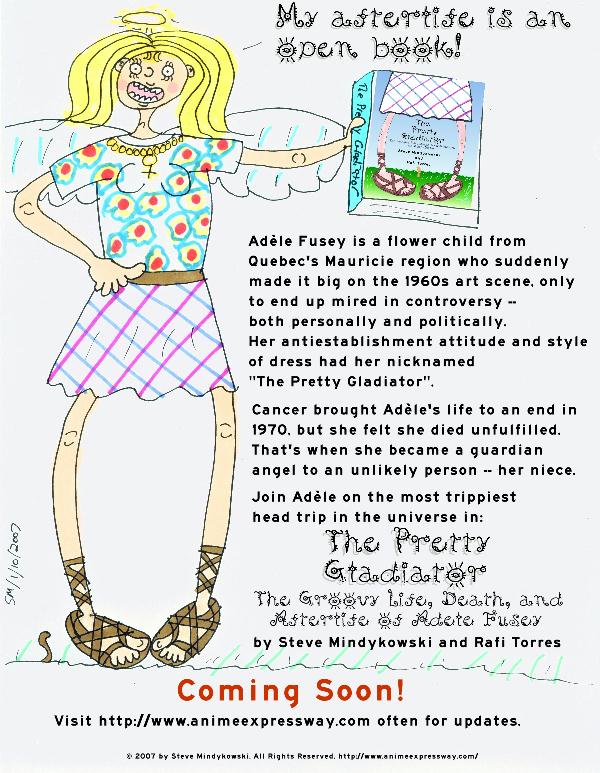 For mature readers only
Contains material that may offend some.
Read the preview now -- click here.
(Requires Adobe Reader (or similar) to view.)

---
"The Pretty Gladiator" is my first book that I'm working on. The above graphic, which I first issued as a flyer at the 2007 MegaCon, practically explains what the book will be about.

Originally to have been a graphic novel, this will be a regular novel instead, with illustrations drawn by me.

This site will have updates on the progress of this book as they become available. And I guarantee -- you'll love it.

Updates

7/14/2007: Earlier this month, I've finally finished with "The Pretty Gladiator". I have given a copy of the latest draft to a friend of mine, who knows a friend who works in the publishing industry (and I'm talking major publishers here, not small pressers or vanity presses). I've also sent a copy to the Copyright Office -- while that is no longer necessary, it's still a good idea to do so, as it helps give the author greater legal leverage.

Also, I have placed a sampler version of my latest draft of my book online, featuring the first three chapters -- you can read it here. Take a look and let me know what you think. However, there's a little warning -- it's for mature readers only, as it contains profanity and some material that may be a little too graphic or erotic to some. (But I assure you that this is NOT a "frig" book (if you catch my drift).)
---